SANS is a unique, dramatic quartet comprising zither-playing multi-instrumentalist Andrew Cronshaw, Armenian duduk master Tigran Aleksanyan, multi-instrumental reeds-player Ian Blake and the great Finnish singer Sanna Kurki-Suonio, all of whom appeared on Andrew's most recent album The Unbroken Surface of Snow. In early 2014 they released the CD SANS Live. In the process of recording the second SANS album, Kulku, released in 2018, the band were joined by a new member, Sanna's daughter Erika Hammarberg (vocals, kantele).
"A thrilling glow of light from Scotland, Armenia and Karelia - The SANS album is the most touching and highest quality of the year by any measure" - Mari Koppinen, Helsingin Sanomat (Finland)
"Kulku is a touching and painfully beautiful disc." - Lars Fahlin, Lira (Sweden)
"A very, very unusual album" - Armen Manukyan, Golos Armenii (Armenia)
"The slightly expanded group, now a quintet, make music that seems as if they've simply dived deep into time. The mix of kanteles, zithers, voices, duduk, saxes and clarinets works with a natural, organic inevitability, and the music doesn't so much unfold as curl off into a gorgeous distance. It has a wonderfully meditative quality, the voices of Sanna Kurki-Suonio and her daughter Erika Hammarberg shifting between harmonies that are ethereal and softly dissonant (as on Pursi - The Rowing Song), while Astele Oro carries echoes of Kurki-Suonio's former band, Hedningarna.

Vocal or instrumental, it's music that breathes, played without ego, finding whatever serves the song or the melody. Everything feels utterly natural, whether it's just a few musicians on a track or the entire ensemble. But although it sometimes seems delicate, almost elusive, there's a very studied foundation, built on years of playing together and pushing gently at the boundaries where cultures entwine. Some pieces, like Kazvatti, take on an almost liturgical quality in the singing, a sacred hush that's only intensified by the gently ringing kantele between verses. Kulku is lullingly melodic and softly adventurous, one that peers into the shady corners and finds the beauty, drawing it out into the light. An absolute triumph." - Chris Nickson, fRoots (UK)
"A very, very unusual album" - Armen Manukyan, Golos Armenii (Armenia)
"There's a meditative quality to the music, and the vocals are in Finnish, thanks to singer Sanna Kurki-Suonio and her daughter Erika Hammarberg. But the other musicians are Armenian (Tigran Aleksanyan on the reedy duduk) and British (Ian Blake on various other reeds and the group's leader, Andrew Cronshaw, on various zithers). The opening Pursi - The Rowing Song is playful, haunting and in touch with the elements. Other super soulful tracks draw on Spanish and Scottish Gaelic traditions. Alarmingly, the most entrancing piece is the final one with its plangent, lamenting duduk melody and softly plucked strings. The words say "I forgot all joy, stopped singing the songs" - Simon Broughton, The Evening Standard (UK)
"SANS have captured a rare beauty" - Riika Hiltunen, Finnish Music Quarterly (Finland)
"SANS is an impeccable combination of musicians and influences. Kulku emerges as a strong communal statement. What you hear is music of such startling originality that the whole functions to create a timeless world of unlocatable beauty. Grounded in and forged from streams of different lands, Kulku offers a warm homecoming to those daring to navigate the interconnectedness of cultures." - Lee Blackstone, Rootsworld (USA)
"The sound-world that the band, led by multi-instrumentalist Andrew Cronshaw, create using clarinet, saxophone, duduk, kantele and vocals is spacious and even spiritual. A clear sense of Finnishness, the dominant musical spirit here, comes through strongly. The lyrics of all the songs on Kulku are in Finnish or Karelian and sung by mother- and-daughter vocalists Sanna Kurki-Suonio and Erika Hammarberg, the newest member of the group. Her higher, bell-like voice complements Kurki-Suonio's warmer tones and declarative style, adding depth to SANS' sound right from the opening, when a close-harmony trio conjure up an image of the wild north." - Tim Woodall, Songlines (UK)
"The beautiful female vocals, the harmony of the tones, the delicately, unrecognizably reworked alien melodies. Each number is beautiful, and different." - Tamaaá Galgóczi, ekultura, (Hungary)
"While you might have gotten up not having known you needed a little Finnish singing in your life or that the kantele has the ability to float you in the air or firmly root you to the music of the earth, or that duduk lines could float above a music composition like a soaring bird, there's Kulku to take you to a place you didn't even know you wanted to go." - TJ Nelson, World Music Central (USA)
"Kulku is a startlingly original piece of work." - Dave Haslam, RnR (UK)
"The haunting duduk playing of Tigran Aleksanyan, a master of the ancient double reed instrument, takes the breath away. The exquisite complementary vocals of the mother/daughter duo of Sanna Kurki-Suonio and Erika Hammarberg, backed by zithers, captivates" - Tony Hillier, Rhythms (Australia)
"The entirety is magical, from another world" - Suonna Kononen, Karjalainen (Finland)
"Ancient, scary Finnish runo songs accompanied by mesmerising nets of sound woven from zither, duduk, bass clarinet, saxophone and fujara. Kurki-Suonio's voice is elemental, summoning mythological beings in a way that has you looking over your shoulder long after the song has ceased." - Jenny Gall, Canberra Times
"SANS led us into a dark night of ethereal beauty. Sheets of audio-joy rippled across the room. Quite, quite beautiful" - Glyn Phillips, worldmusic.co.uk
"Beautiful, spacious, haunting, visceral" - Rachel Nelken, Arts Council England
"Exquisite" - Robin Denselow, The Guardian
"The very air heaves and sighs" - Ken Hunt, fRoots
Sanna Kurki-Suonio: vocals, kantele
Erika Hammarberg: vocals, kantele
Andrew Cronshaw: electric zither, marovantele, fujara etc.
Tigran Aleksanyan: duduk
Ian Blake: bass clarinet, soprano sax, clarinet etc.

Artists' Bios
SANS on Facebook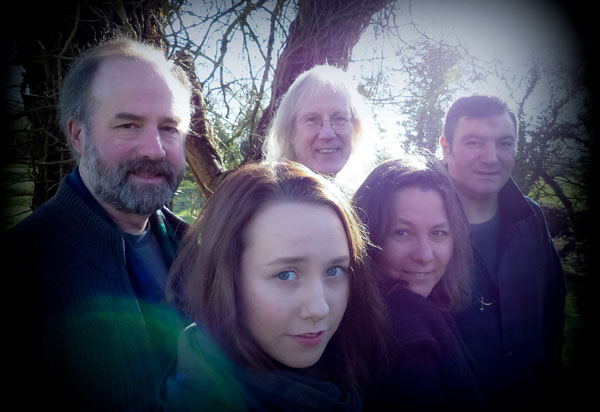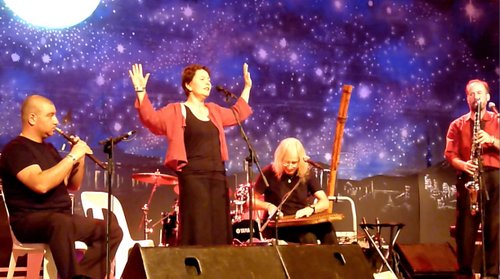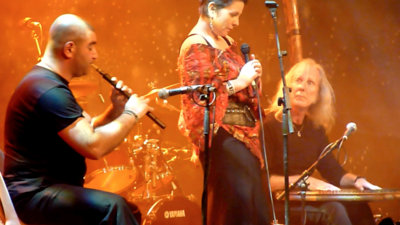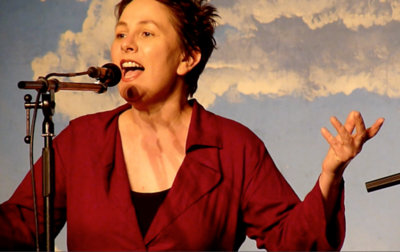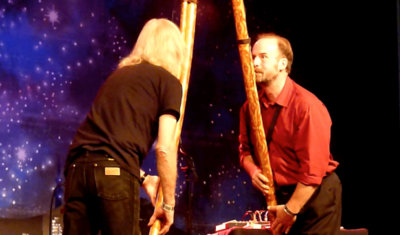 Here's a video of SANS at WOMAD festival UK in July 2014


More videos are on SANS's YouTube playlist and elsewhere on YouTube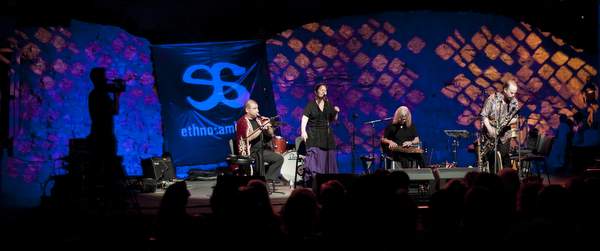 Photographers: Antonia Kavas, Alex Brattell, Andrew Cronshaw, Ian Anderson, Pekka Suutari
There's more news, conversation, photos and links at SANS's Facebook page.